Expert Insight on Overcoming Implementation Challenges
Learn How to Empower Your District with Effective Social Emotional Learning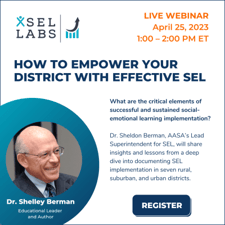 What are the critical elements of successful and sustained social-emotional learning implementation?
Dr. Sheldon Berman, educational leader and author, has taken a deep dive into documenting social-emotional learning implementation in seven rural, suburban, and urban districts to draw lessons and insights that can help other districts. Those lessons will be published in the forthcoming book, Implementing Social-Emotional Learning: Insights from Districts' Successes and Setbacks. In this webinar, you will learn:
Critical elements of successful and sustained SEL implementation
Tips on identifying the most common roadblocks and how to avoid them
Strategies to gain faculty buy-in and achieve robust student results
Dr. Sheldon Berman has led the implementation of comprehensive approaches to social-emotional learning as superintendent in four districts over 28 years and is now serving as AASA's Lead Superintendent for Social-Emotional Learning. He was a member of the Council of Distinguished Educators of the National Commission on Social, Emotional, and Academic Development and the primary author of the Commission's SEL practice report. Dr. Berman has written extensively on SEL and has received lifetime achievement awards from AASA, CASEL, and Character.org.
View the Webinar Recording