Leading for Positive School Culture and Joy
In a recent Leading Minds webinar, Principal Salome Thomas-EL, aka, Principal EL, shared strategies for creating joyful school cultures in which children and adults feel seen, heard, valued, and respected.
Discover the secrets to building a thriving and joyful school culture in our latest eBook, Leading for Positive School Culture and Joy. Uncover the proven strategies, provided by Principal EL, that will transform your school into a place where students and teachers eagerly embrace each day with enthusiasm and find joy in their learning journey.
Start learning the tried-and-true strategies to create a positive culture of learning and joy!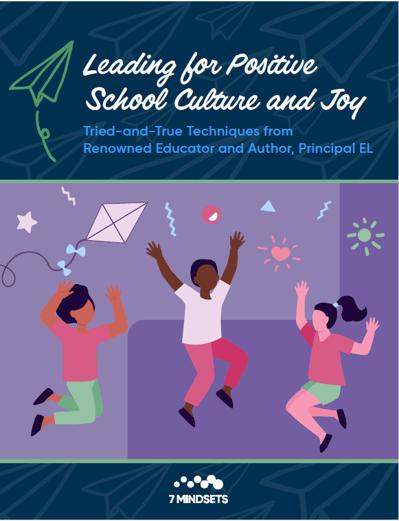 About 7 Mindsets
Founded in 2009, 7 Mindsets is a comprehensive mental health and well-being solution provider for schools and districts across the country. The company offers multi-tiered curriculums, assessment, professional learning, and coaching that ensure safe and supportive learning environments. Its highly effective programs have been shown to improve student engagement, behavior, and academic achievement, and have been used by over 5 million students and educators.