RESEARCH BASE AND EVIDENCE OF EFFECTIVENESS
7 Mindsets is a social emotional learning solution developed from more than 25 years of research. Our evidence of effectiveness includes independent research as well as efficacy studies of the program's success with elementary, middle, and high school students.
What differentiates 7 Mindsets is a measured set of lasting, tangible improvements upon the mindsets of both students and educators. Students who experience a firm belief in their potential, an optimistic vision for the future, and a strong sense of personal authenticity perform better academically and forge more substantial relationships in life.
Students who received 7 Mindsets instruction for at least five months showed significant improvements in behavior, attendance, achievement, and prosocial qualities such as resilience and grit.
Read more about 7 Mindsets research base and evidence of effectiveness by submitting the form!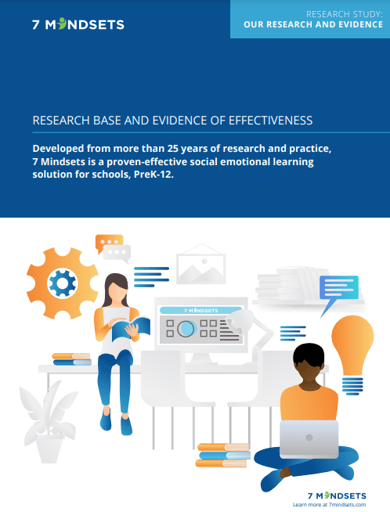 Download the Research Now!
ABOUT 7 MINDSETS
Since 2009, 7 Mindsets has been providing an award-winning, easy-to-implement, proven, and transformational SEL curriculum and professional development program to pre-K-12 schools and districts. The research-based program helps educators create and sustain positive school cultures rooted in healthy relationships.